UNITED AUTOSPORTS CLAIM PODIUM IN JAPANESE WEC RACE
UNITED AUTOSPORTS CLAIM PODIUM IN JAPANESE WEC RACE
British team starts from LMP2 front row for fourth consecutive race
#22 Oreca leads 6 Hours of Fuji race on multiple occasions
Hanson, Albuquerque & Jarvis score United's first full season WEC podium finish
United Autosports scored its first podium finish in only the second round of 2019-20 FIA World Endurance Championship when the #22 Oreca of Phil Hanson, Filipe Albuquerque and Oliver Jarvis was officially classified a magnificent third – sixth overall - in the 6 Hours of Fuji today (6 Oct).

The British team, recent winners of the 4 Hours of Spa-Francorchamps in the European Le Mans Series, qualified on the LMP2 class "front row" (Albuquerque/Hanson) for a fourth consecutive time (2 x ELMS, 2 x WEC) around the 2.85-mile Fuji Speedway circuit yesterday, the quickest Michelin class runner. The Portuguese grabbed the lead momentarily at the green light, the race declared "wet" with drops of rain falling, but with the track dry and the entire 30-car field on "slicks". Albuquerque continued to run fourth, 27secs off the lead, after the first phase of pit-stops, the United crew turning #22 around in the quickest time (67secs) for a fuel only stop after 47mins. Hanson remained fourth having taken over #22 on 93mins (full service) but charged into third place at one-third distance before stopping for fuel (2hr 19m).

Phil resumed third, less than eight seconds off the lead, and produced a driving masterclass, closing to within 2secs of the lead on the slippery track caused by light rain approaching mid-distance and into second (2hr 49m) when the leader spun. But almost immediately, the #22 suffered the first of three sudden electrical malfunctions which caused the engine to momentarily shutdown. Hanson lost over 30secs completing a power cycle and dropped to fifth before #22 made two pit-stops within 10mins of each other.

Fifth-placed Jarvis took over (3hr 2mins) resuming on "inters" prompted by drizzle but returned for slicks (3hr 12m) as the track quickly dried with Olly setting the car's fastest lap. Albuquerque was back in for the final 82mins, Filipe moving into fourth place with 24mins remaining. #22 continued to match the lap times of the top-three in the second half of the race and moved up to third place in the final classification when another car was disqualified.

The third round of the WEC is staged in China. The 4 Hours of Shanghai will be held on 10 November which will see Paul Di Resta (GB) back in the #22 Oreca alongside Albuquerque and Hanson. Meanwhile United's next races are the final rounds of the Michelin Le Mans Cup and ELMS at Portimão in Portugal (27 Oct).
Phil Hanson (GB), driver car #22, United Autosports:
Born/Lives: London, UK. Age: 20
"A fourth place finish was a decent result but getting third is definitely a bonus. Filipe struggled at the start as he couldn't get the tyres up to temp which has been our main issue all weekend. That caused us to lose places and drop well behind the leader. I took over and managed to have a similar pace to him and was slightly quicker than everyone else. I got up to second and was putting pressure on the leader but almost immediately had an electronics issue which then reoccurred later for Olly and Filipe. But because of our strong line-up, we were able to rescue fourth on the road and ultimately third which was the best that we could have hoped for having lost at least 90secs with these problems. We need to do our homework and find out what went wrong. I got redemption from Silverstone in qualifying. I made two mistakes there, on both my tyre runs, but here I was within a tenth of Filipe's fastest time on 'mediums' here in Japan which was very pleasing for me."

Filipe Albuquerque (POR), driver #22, United Autosports:
Born/Lives: Coimbra, Portugal. Age: 34
"Fourth place was a good recovery and now that's become third! I made a good start but then really struggled to get temperature into the tyres. Unfortunately we suffered with electrical problems again which happened for all three of us. In the end I was trying to avoid the kerbs in case this was the cause. It was a weekend that we learned a lot about the Oreca. We know that we were not going to be winning all of the races so it is part of the process of learning about our new car at new and different tracks. Qualifying was hard, with the red flag as well, it didn't make it smooth. It was a great effort from Phil and the team to put the car in P2."

Oliver Jarvis (GB), driver car #22, United Autosports:
Born/Lives: Newmarket, UK. Age: 35
"Unfortunately, by the time I got in the car, despite both Filipe and Phil doing a fantastic job,we were already on the back foot with the car switching off which was very strange and difficult to understand because the 'prep' of the car is fantastic. We made the wrong call on going on to the intermediates. It looked like it was the perfect call at the time but the track surface dried out so fast. I really enjoyed my double stint and when we were on the right tyre, the car handled well and we were one of the quickest cars on track but unfortunately we were out of contention. I've really enjoyed the weekend working with the team, Filipe and Phil, it has been a lot of fun – and coming away with a podium is a bonus."

Zak Brown, Team Owner and Chairman, United Autosports:
"Ultimately a fantastic final result for the team after our Silverstone disappointment. All three drivers showed great pace and in reality we deserved to get on the podium. We'll strip and rebuild the car, rectify the electrics problem, and come out fighting for another top result in China."

Richard Dean, Team Owner and Managing Director, United Autosports:
"We qualified on the front row, led the race, and have been classified third. It's frustrating to again suffer an electrical glitch that occurred three times, each time requiring a power reboot of the car. We are going to investigate but I'm delighted to score our first WEC points of the season. In the meantime, we will now focus on Portimão ELMS where we hope to carry on from our dominant win last time out at Spa."
About United Autosports
2018/2019 Asian Le Mans Series Champions
2017 European Le Mans Series LMP3 Champions
2016 European Le Mans Series LMP3 Champions
United Autosports is one of the fastest growing motorsport teams in Europe and competes globally in numerous sports-prototype categories worldwide. Based in Leeds, West Yorkshire, UK, the team is co-owned by McLaren CEO Zak Brown and former racing driver Richard Dean. United has competed in multiple championships, with a vast range of world renowned drivers including former double World F1 Champion Fernando Alonso, ex-CART Champion and Indy 500 race winner Juan Pablo Montoya, 2019 F1 driver Lando Norris and former DTM Champion Paul Di Resta.
The team was formed in 2010 and initially contested a prestigious GT championship in Europe. After being a front-running British GT Championship team for four years, they have since branched out into racing sports prototypes globally. They are multiple race and championship winners having won the 2016 and 2017 European Le Mans Series LMP3 Championships as well as most recently, the 2018/2019 Asian Le Mans Series LMP2 Championship. Their success extends to standing on the Le Mans 24 Hours podium last year in only their second attempt at the French endurance classic.
Aside from their modern racing activities, United Autosports also restore and maintain a vast range of rare historic Formula One and sports cars, entering races in the UK, Europe and across the world.
United Autosports have come to know many of the world's leading motorsport manufacturers throughout their various global racing programmes. They are now proud suppliers of some of these companies, all being expertly catered for under the United Autosports name. Through their relationship with Jim McGuire, they became UK agents for AERO Sustainable Paint Technology in 2017, while in 2019, they added HRX racewear and Stilo helmets to the extensive portfolio of companies they represent.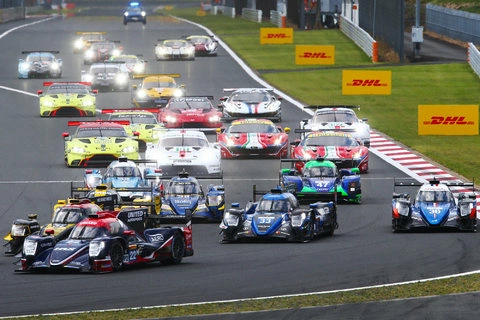 photo_camera
photo_camera